Attention Affiliates: Important Announcement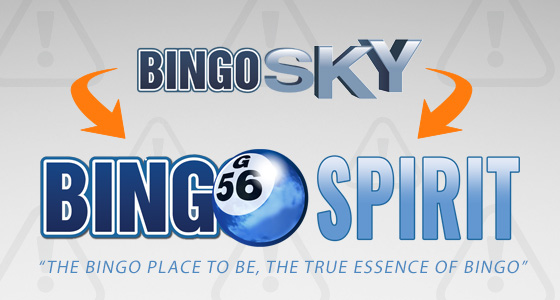 Time for Rebranding

April is a month of change at BingoSKY as we rebrand the site to its new name, BingoSpirit. After 13 years, we feel it's time to remodel the brand identity with a new name...BingoSpirit. This change is only to the site name, ownership and all games remain the same. This change will bring a positive new identity to the site, allowing the opportunity to revitalise the player experience and introduce the BingoSpirit playing experience to new players. Players will enjoy the same great bingo games, casino games and promotions that we offer across all our bingo brands and this rebranding also offers our affiliates new and exciting marketing opportunities to promote BingoSpirit, the Bingo Place to be, the True Essence of Bingo.

All marketing materials will be updated along with all banners and promotional emails. The changeover will take place as of Tuesday April 18th and currently active players will be automatically redirected to the new site with no interruption to their playing experience. This will also be the case for all affiliate payments, there will be no interruption to your payments for players at BingoSKY and BingoSpirit.

Content that will need updating to the New BingoSpirit branding will include:

- Banners
- Logos
- Textlinks
- Text / content / reviews

All tracking links will remain the same and there is no need to update them. Please contact us as soon as possible with any requests for new promotional content for BingoSpirit or with any questions that you may have.
---
At VistaGaming Affiliates our dedicated team is here to help. If you have any questions or specific requests, please contact us support@vistagamingaffiliates.net and we will get back to you as soon as possible.

Home | Login | Join Now | Contact Us